The Jackal and the Wardrum Panchatantra Story with Moral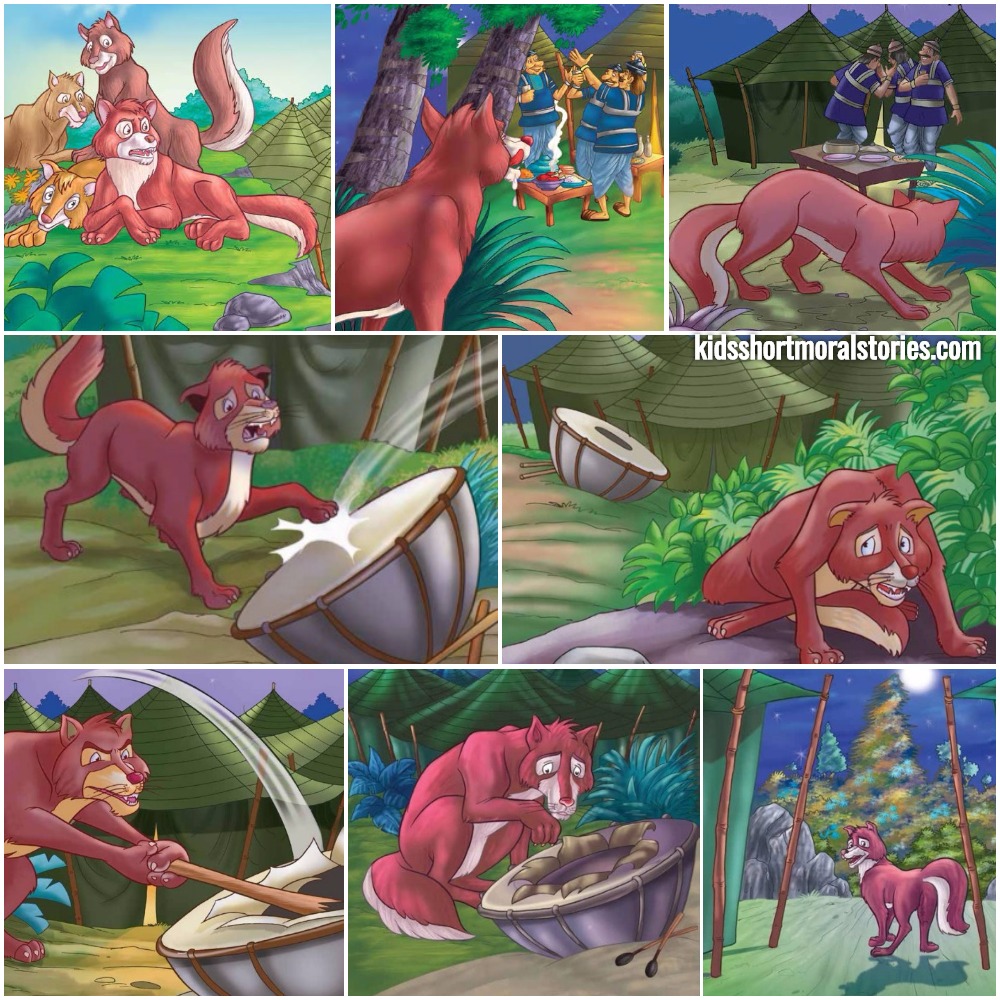 The Jackal and the Drum
There once resided a jackal inside a dense forest close to an military camp. He loved residing in the beautiful forest simply because there was plenty to eat and he had many good friends to play with.
Then one day, he heard lots of sound from the army camp. He wondered what it was. "Let's go and find out the reason these people are making such a noise, " he said to his close friends.
At this moment the animals of the forest preferred to keep away from the strange men. So that they declined to go with him. "We don't want to be trapped by these men! " said one. "God knows how terrible they can be, trembled another.
"The men will hunt us down, and I don't wish to die! " exclaimed the third.
But there was no way to keep the jackal back. Although his friends requested him not to go, he chose to see for himself.
"Oh these cowardly animals don't know a thing, " he muttered, "it's merely men after all… how terrifying could they be? "
Hence off he gone scampering right down to the military grounds, thinking about all the tasty food he would get to eat. You see, he had not eaten throughout the day, and was really hungry now.
When he arrived at the camp, he saw the men drinking, eating and making merry. These were making a lot of noise, and it seems they were having a lot of fun!
The noise terrified the jackal, and he immediately hid right behind a tree.
BOOM BOOM BOOM! The noise continued.
He noticed all of the men rise and enter into their tents quickly! In a moment the party had concluded and there was clearly not a person in sight.
"Ooooh! This should be some horrible, terrible beast! ' quivered the jackal, his hair upright in panic. He did not understand that it was simply a drum-beat announcing sleeping time! Several hours passed, but he kept to his hiding place, not daring to even have a look at the camp.
Then all of a sudden a rumbling sound came from his tummy. He was extremely hungry now! He thought about what to do. Dare he go into the camp?
"There undoubtedly has been absolutely no sound for a long period, " he thought, "maybe the beast has gone. "
So , he moved out from behind the tree and searched around. Nobody was in sight. Treading gently, and trying to be daring, he reached the ground and started searching around for food.
But there was absolutely nothing! All the delicious food was gone! Where could it have disappeared? He was still pondering, when he suddenly discovered the drum.
"Ah ha! So this is exactly where they keep all the food, " he thought.
He walked around the drum and sniffed it. The drum could not smell tasty at all but definitely there was something to eat inside it, thought
hid behind a bush, waiting to escape if the beast followed after him. But the drum did not move.
"This cannot be a beast, its not moving and breathing, " he assumed. "This has to be the their food container. Let me go and open it up. "
So he went to the drum once again poked the skin of the drum a little harder, looking for food inside. The harder the jackal poked, the more the drum sounded, however it would not open.
The jackal searched around until he located a huge stick, and strike the drum so hard that he smashed the skin.
Then the jackal pushed his paw through the hole searching for the food. However, there was clearly no food!
The inside of the drum was just a hollow wooden barrel.
The jackal laughed at himself for being so foolish. "I've been frightened of some thing so ridiculous, simply because others had put a fear in my mind.
I will be more practical next time, " he said to himself as he walked back to the forest.
Summary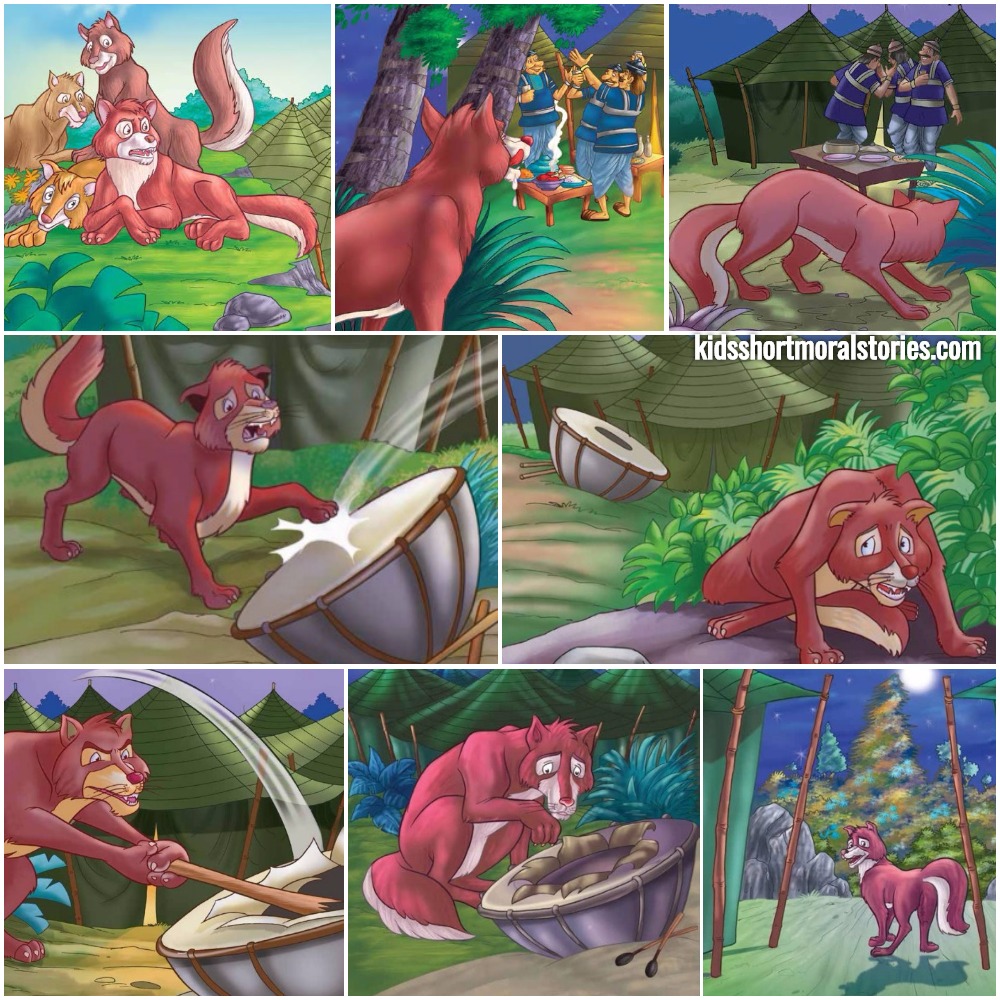 Article Name
The Jackal and the Wardrum Panchatantra Story with Moral
Description
There once resided a jackal inside a dense forest close to an military camp. He loved residing in the beautiful forest simply because there was plenty to eat
Author
Publisher Name
Publisher Logo