Once upon a time, a very rich merchant lived along with his daughter, whose name was Beauty. One day, he got a letter which stated he required to travel far away for business, so he asked her what she would like him to bring back.
"All I want is a beautiful flower you see on your way," Beauty said.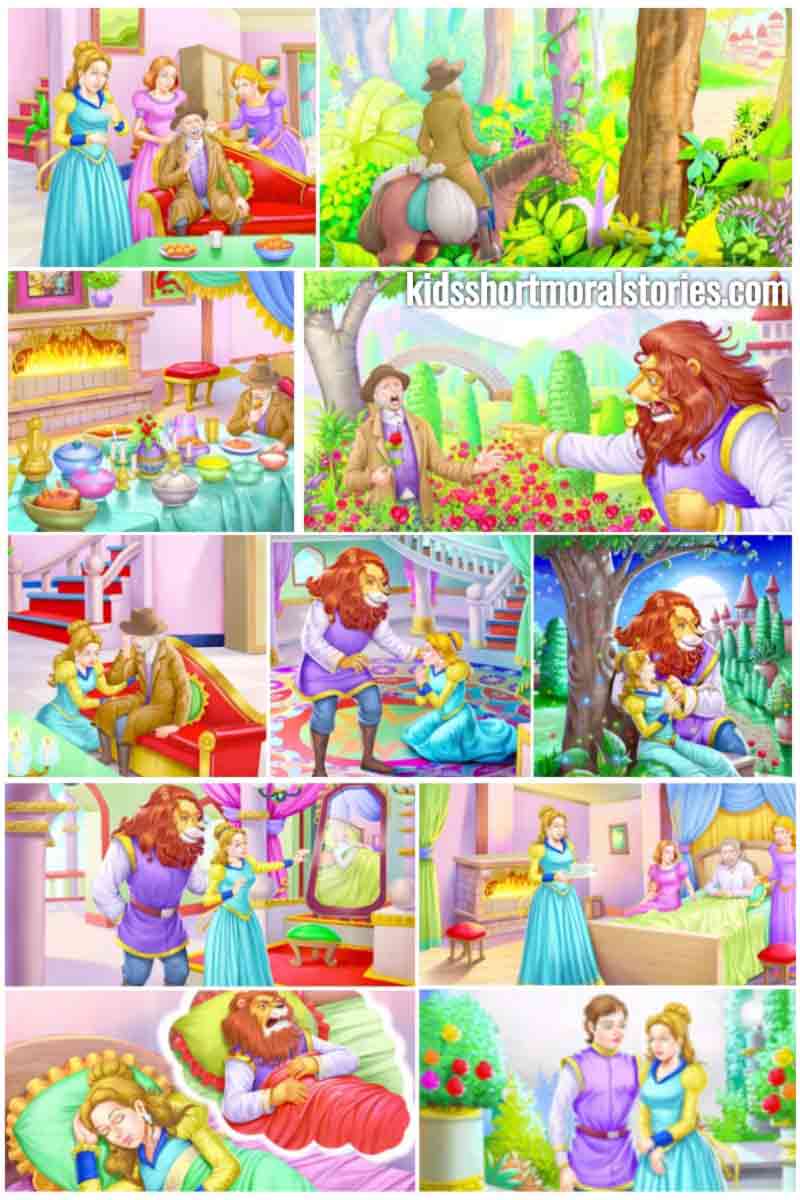 The merchant traveled to the big city for his business, and on his way home he got somewhat lost. He was in a dark forest. He wandered around haphazardly, anxiously searching for the road.
Before long, he located a huge castle. He knocked at the door, but found it open so went inside. He seen the kitchen had tasty food arranged for him, and a big comfortable bed was in the next room. There was even a map, so he was able to find his way home.
The following day, he remembered what Beauty had asked for, so plucked a lovely flower from the castle's garden on his way home.
All of a sudden, a large Beast leaped out of a castle window. He was wearing very fine clothes. "I gave you food, a bed, and a map! " the Beast roared. "And now you steal my roses? "
"I'm sorry! " said the scared merchant. "It's a gift for my daughter! "
"I will forgive you if you send your daughter to me, " Beast said. "If she's not here by nightfall, I will eat both of you.
The merchant went home, and described the matter to Beauty.
"I will go, Father, " she said. "I don't know what the Beast wants, but if I go and get eaten, then just one of us will be eaten. If I don't go, he will eat us both. "
So off she went, to the Beast's castle.
At? rst Beauty was scared of the Beast, but he was very kind to her. He was never rude or obnoxious or nasty, and let her stay in the best room, and grown lots of roses specifically for her. He would let her sit by the fire, and tell her stories.
As time went on, Beauty stopped being afraid of the Monster and began to like him.
One day, the Beast requested her to get married to him, but she said no . Although she liked him, she was still frightened of his monster-like face. She was worried the Beast would be nasty, but he carried on being nice and kind to her.
"I miss my Father," she said one day.
"I have a miracle mirror, " the Beast said. He vanished for a second, and came back with a mirror he hung on the wall. "If you look in the mirror, you can see the person who you choose, so you will not feel alone any more. "
Each day Beauty would look in the mirror to find out what her father was up to. One day, she saw he was ill and dying.
"Please allow me to go home! " she begged. "I only want to bid farewell to my father just before he dies! "
The Beast looked at her, and said, "You may go to your father for 7 days. After that time, you must promise to come back. "
"I promise! " Beauty said immediately. She took the mirror with her, and went home.
She put the mirror in a wardrobe, and nursed her father returning to health. In a short time, he was totally better. They were so happy to see one another, that Beauty forgot all about her promise to the Beast.
One night, she was got up by a nightmare, and ran to the mirror. She looked at it, and found Beast was sick and dying. It almost appeared like he knew Beauty was looking in the mirror, because he said, "Beauty, please come back! "
She realized that she do love him after all, so ran all the way to the castle.
"Please don't die, Beast! " she said. "I love you! I will stay here once and for all if it will make you better! "
The Beast glowed, and turned into a handsome prince.
"I was under a curse," he said. "I could only change back if someone fell in love with me. You have broken to curse."
And then, Beauty and the Beast were married and with each other they lived happily ever after.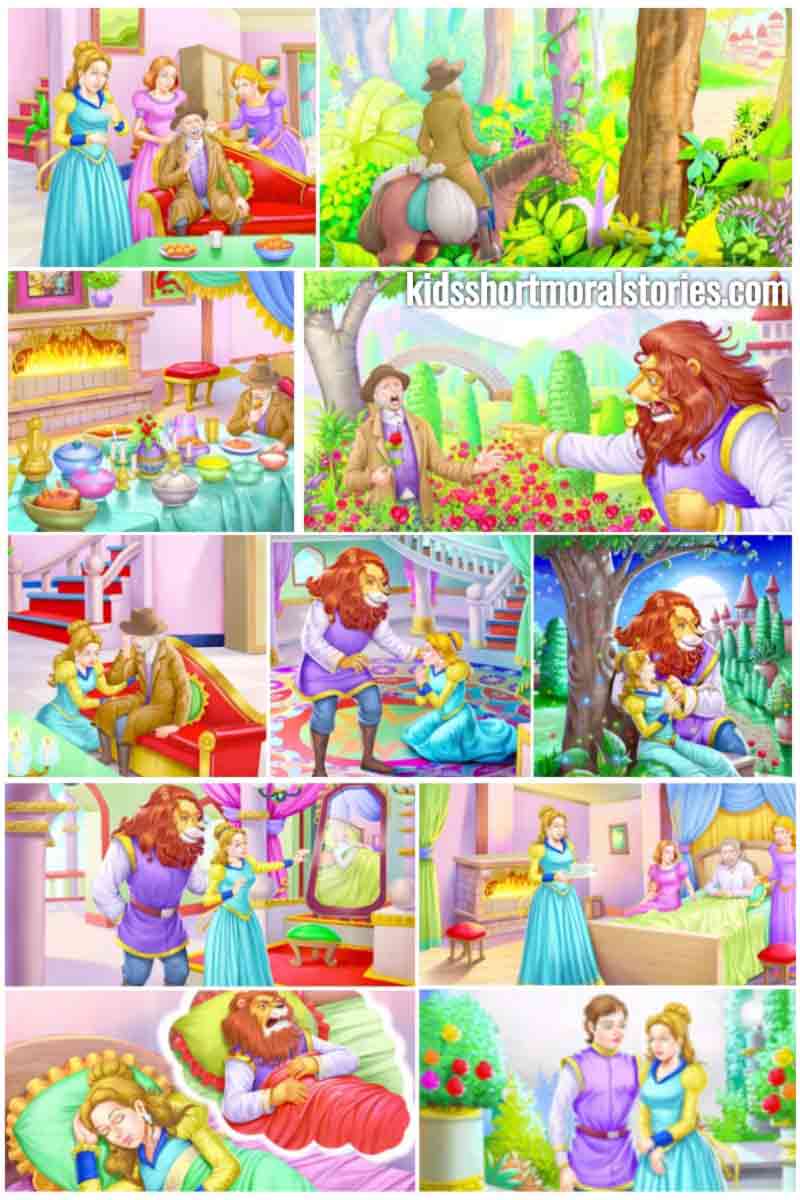 Summary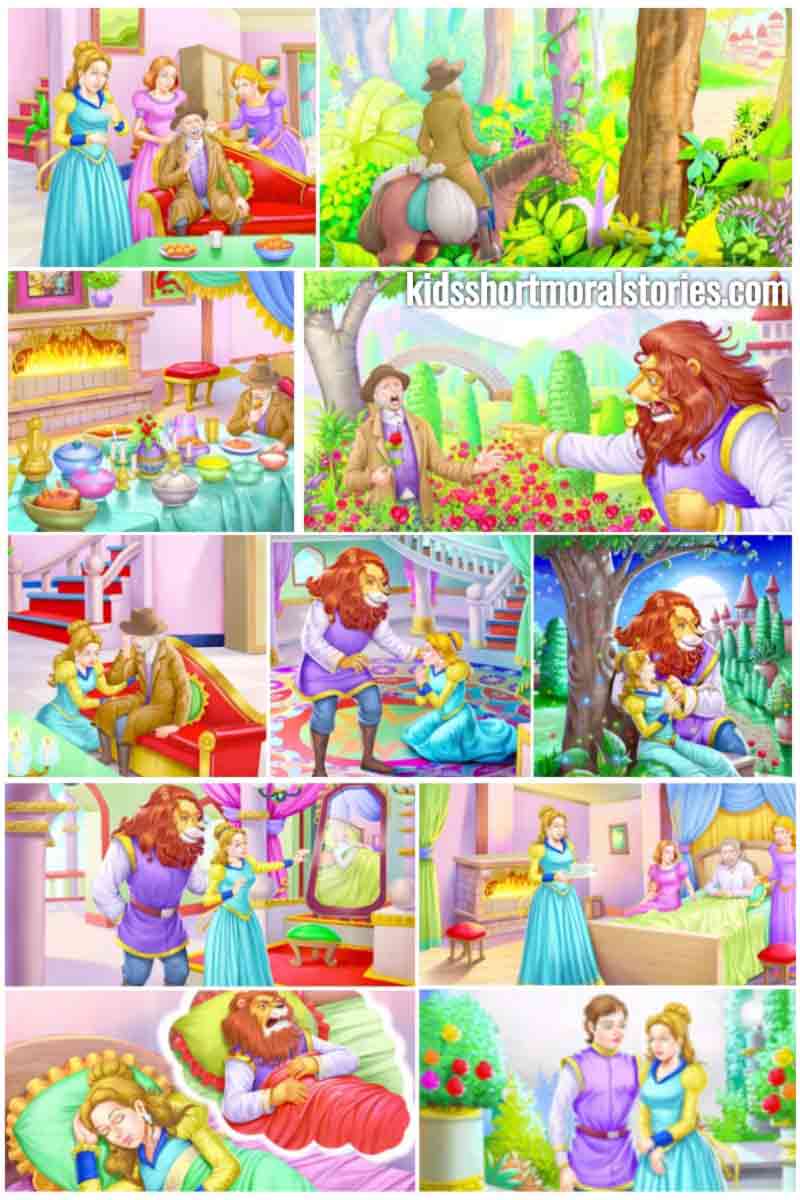 Article Name
beauty and the beast story summary
Description
All of a sudden, a large Beast leaped out of a castle window. He was wearing very fine clothes. "I gave you food, a bed, and a map! " the Beast roared. "And now you steal my roses? "
Author
Publisher Name
Publisher Logo